Today I've started putting the books and magazines back into the study and onto our new bookcases.
I started with the travel books on the top shelf, in alphabetical order. Then founds some other books which would also fit I to the smaller of the shelf spaces. They were mainly blue so I tried the colour rainbow approach and it was so much more pleasing to look at! Sad, I know. There was nothing for it and the travel books were rearranged:
There's still some work to be done but all the books and magazines I found on the top floor have been dealt with. Now to find the others!
The magazines still need to be sorted as they were previously on the other wall. I'm considering some MDF decoupaged uprights too, to give some more structure here. It'll also make it easier to pull magazines out (and put them back again).
Back to work tomorrow though, three days have just flown by. Now I wish I had more time off, but I haven't!
Tomorrow the decorators are back, this time another one to complete the snagging list - wish us luck!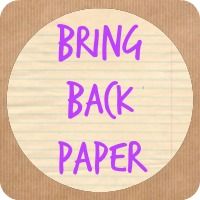 I'm sharing this archive post with Jocelyn from The Reading Residence new #PaperyPeep Linky
(Click the image to see the other contributions)