Well this week was better than last week - thank you to everyone who sent me good wishes, they definitely worked!
We've had quite a social week starting on Saturday with a friend's wedding party. They married in Las Vegas earlier in the year and held a wedding party for all their family and friends at Hylands House in Chelmsford - it was a lovely do in a lovely place. Weddings are great for bringing family together with different groups of friends and this one was no different, there was a terrific buzz at the venue.
Sunday we hit the streets of London to watch the marathon, it's an amazing spectacle and hats off to everyone that runs it, I don't think it's something for me. What I do love is seeing the instant perk up and gratitude from the runners as you call their name as they run past. While we stood at Mile 17 calling out to people we didn't know we got chatting to a couple of lads next to us, they too were calling and telling each of the runners they were "their favourites!" There were plenty of people out supporting and many of them were offering the runners orange segments and jelly babies to give them that extra energy boost - it was great to see.
There was also a friendliness on the DLR that you don't see with commuters; the trains were fuller than usual with people crammed in between the seats and no one minded the elbows and back packs too much... It was of course chaos as everyone disembarked at Bank as people were unsure of which direction to head but everyone remained in good spirits.
We saw three of our five friends that were running and two of them saw us too! We met up with two (one that hadn't seen us and one we'd missed on the course entirely) and their friends and families at a pub near Tower Bridge afterwards to listen to everyone's marathon experiences and to eat pizza and drink the odd pint of beer or two!
Then last night we were out again, this time at the Thameside Inn near Borough Market and the Golden Hinde to catch some last of the sun and meet up with MOH's work colleagues from eight years ago. They worked together, left the organisation together and have stayed in touch which is great. There's always banter, often there's some serious stuff and there's always the promise to meet up again. Every time we meet up it's like no time at all has passed since the last time, that's what great friendship is all about.
Then finally this morning at my "9am-on-a-Bank-Holiday-so-I'm-feeling-virtuous-Pilates-class" one of the ladies suggested a village we should visit when we're in Derbyshire after Easter. [She's from around there and has recently moved to London to be nearer her daughter and grandchildren - and the village in case you're wondering is Eyam]. There was also the mutual sigh and resolve when the instructor announced it was time for "the hundred!"
Hope you've all had good weeks too!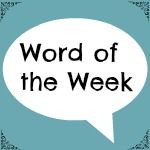 I'm linking up to the Word of the Week
over at The Reading Residence,
click the image above to read the
words chosen by others.