This week I've chosen a word we sometimes take for granted and can at times overlook, but friends are people that make each of our world's a much better place.
I've been reminded this week of just how strong and powerful the friendships I have are, and of how lucky I am to have so many good friends.
Of how friends provide support and give you that extra boost when you're least expecting it often without even knowing they're doing it.
Of how meeting for lunch is just the same as it always was, despite not seeing each other regularly and of knowing the next time, it'll be just the same again too.
Of how each of us draw on our friends as we journey through the different phases of our lives and how each of us are there when our friends need us.
And of how absent friends still draw us together to remember all that was good and to reflect on our shared experiences.
I'm lucky to have some truly amazing friends.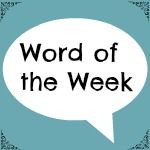 I'm linking up with Jocelyn over at the Reading
Residence, click the image to read more words of the week.